"Every year at this time the phone is ringing for boiler repairs," says Tom Schefer, Hydronics Manager at LeDuc & Dexter, "We'll get these calls through February or March – that's the boiler season – and we take care of boiler repairs as soon as we can."
Schefer recently got a call from Sonoma Acres, a retirement home that had their boiler go down. "In a situation like that we feel it's critical to get their heat back as quickly as possible – they have a lot of elderly people who were getting cold." LeDuc & Dexter's Hydronic Department also recently repaired a boiler at Bear Flag Republic Brewing Company, which is used to heat brewing kettles.
Schefer recommends replacing an old or inefficient boiler with a new Munchkin Boiler for residential or commercial applications. "I really like the Munchkin – it's been refined over the past few years so that it's really simple for the installer and the homeowner, who has hydronic floor heating. It's highly efficient and easy to use."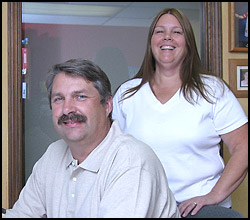 The Munchkin Super Stor Boiler has a 96% fuel to heat efficiency rating as compared to 80% for a conventional boiler. The Munchkin can be powered by natural gas or propane, which also adds to its energy saving value.
Although the cost of the Munchkin can be around $1,500 more than a conventional boiler for a 2,000 to 3,000 square foot home, Schefer estimates a monthly savings of $40 to $50 for homeowner with the Munchkin.
Munchkin Boilers have a diagnostic system and default code for the user. Schefer can also connect a phone line to the Munchkin's computer grid to monitor its operation, which be logged for up to 4 days, and receive the information at a computer in his office. From the remote connection he can adjust or reprogram the boiler or if a part is needed a technician can pull it from the warehouse and have it ahead of time for the service call, which also saves time and money.
"Munchkin Boilers might need to be serviced every 5 or 10 years," says Schefer, " If you plan to buy a new boiler I think they're the only way to go."