Chapel Cove is a new upscale development of 13 luxury homes and 2 BMR units located in the bay front setting of the Peacock Gap community in San Rafael. Chapel Cove features custom homes in the 4,000 square foot range with feature options for homebuyers and views of Richardson Bay and the surrounding hills.
White Oak Enterprises is the general contractor for Chapel Cove. Partners Pete Hellmann and Garth Patterson formed their company in 1993 and have built communities in Danville, Walnut Creek, San Ramon, Hayward and Fountaingrove in Santa Rosa. "We like to build projects one at a time and Chapel Cove is the one we're working on now," says Garth Patterson, who serves as the project manager for Chapel Cove. Hellmann and Patterson have known each other for 30 years. Hellmann was previously the President of Presley Homes and Patterson was Vice President.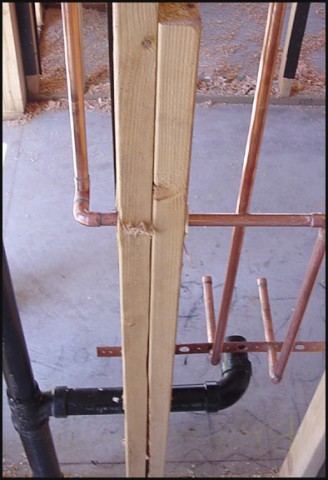 This is the first time Garth Patterson has worked with LeDuc & Dexter. The plumbing plan includes caste iron drain lines within the walls from the second floor fixtures with insulation in sound-sensitive areas. The plumbing fixtures, faucets and sinks are Kohler including the porcelain-over-caste iron kitchen sinks. Viking appliances including a 6-burner gas cook top and double ovens. The fire sprinklers are automatic concealed heads and copper water piping is being installed in all of the homes.
Of the 15 homes that will be built at Chapel Cove, a model near the entrance of the subdivision is scheduled to be completed and open for perspective homebuyers in midsummer 2004.