Since the Sonoma County fire sprinkler ordinance went into effect in July 2003, LeDuc & Dexter has been extremely busy installing residential fire sprinklers. "It's the fastest growing part of our company right now," says Tom LeDuc, President and CEO of LeDuc & Dexter. The new ordinance makes fire sprinkler systems mandatory for new construction.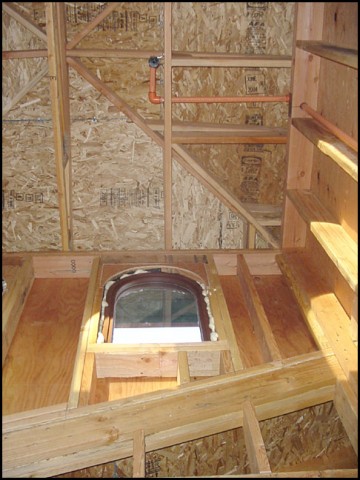 Mike Ruzicka , LeDuc & Dexter Fire Sprinkler Project Manager, started his tenure with the company in June of 2003. He agrees that the fire sprinkler ordinance was a catalyst, but he sites other factors that have contributed to the boom in business, "LeDuc & Dexter's reputation and the increase of work in the residential department have given us the opportunity to add the fire sprinkler work to our plumbing contracts."
All of Sonoma County, except the city of Santa Rosa, is under the mandate of fire sprinklers for new construction. "Santa Rosa has a formula that takes into account the water supply from fire hydrants and fire stations, but it really hasn't slowed us down," says Ruzicka.
"We're doing design/build systems for custom homes mostly although we have the Davidon Homes subdivision (at Black Point in Novato) and Parkland Hills in Healdsburg," adds Ruzicka.
Ruzicka works under Jim Kempers, Residential Manager at LeDuc & Dexter, and has three full time installers. Ruzicka is responsible for all the fire sprinkler design drawings. Most of the work is taking place in Sonoma County, "We have some jobs in West Marin and Tiburon, but we don't need to travel very far to get work right now."
Call (707) 575-1500 or request plumbing help today.