Over the years an abundance of farmland in Sonoma County has been developed into vineyards. Now, in Windsor, vineyards are being developed into homes. Vintana, a residential community situated next to Windsor High School, is replacing a 25-year-old Kline Family vineyard. The vines, which have passed their prime, are being removed to create land to build homes on. Vintana will total over 500 homes upon completion with 253 homes already built and sold by Ryder Homes.
LeDuc & Dexter is now contracted to complete the remaining phases of Vintana. Ryder Homes Superintendent John Morrow describes the five current models under construction as "more upscale with two single story plans and three 2-story plans, the homes range from 1830 square feet to 2850." The entire community surrounds a large community park. "The park was purposely developed without any sports facility included," adds Morrow. "There are soccer fields about a half mile away in Vintage Greens and the final phases of Vintana homes will border the football field at Windsor High School." The impressive Windsor Old Downtown Development project is less than a mile away.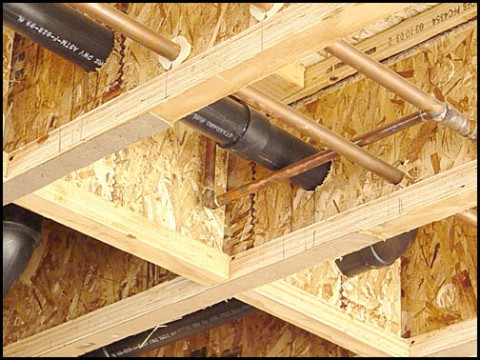 It has been a number of years since LeDuc & Dexter has worked with Ryder Homes. Morrow coordinates with Jim Kempers , Residential Manager for LeDuc & Dexter and residential Superintendent Kevin Delong for scheduling and day-to-day needs. Arturo Herrera is the lead plumber for LeDuc & Dexter, completing the top out plumbing on the models currently under construction. When the rough plumbing and electrical are complete Morrow, along with the architect and designers will proceed on a corporate walk through to check and make final changes before production begins on the current phase 4.
Phases 1, 2 and 3 were completed over the last 3 years; phase 4 through 7 should be finished over the next 3 years according to Morrow.
With street names like Winemaker Way, Decanter, Bouquet, Stomper, Pinot Noir and Zinfandel, Vintana is certainly paying homage to the former "stomping grounds" of the time-honored vineyard it is replacing.
Call (707) 575-1500 or request plumbing help today.