LeDuc & Dexter's commercial department has completed under slab plumbing for a beauty salon at a retail tenant improvement project at the Mendocino Market Place at Mendocino Ave. and Steele Lane in Santa Rosa. Midstate Construction is the general contractor on the project that includes two large buildings adjacent to the new Safeway supermarket.
The two buildings will be divided into separate retail spaces including Cold Stone Creamery and Starbucks. LeDuc & Dexter has previously contracted with Cold Stone Creamery at two other locations that have been built in Sonoma County. LeDuc & Dexter has also worked with Midstate Construction on a tenant improvement project at Bed Bath & Beyond and PETCO on Santa Rosa Ave.
With the shell construction underway the slabs have been poured and framing is underway. When Cold Stone Creamery is ready to build their space LeDuc & Dexter will cut the cement slab to layout the plumbing lines to fit the plans, which haven't been submitted yet. The beauty salon had plumbing plans ready before the slab was poured so in wasn't necessary to cut the slab to complete their plumbing.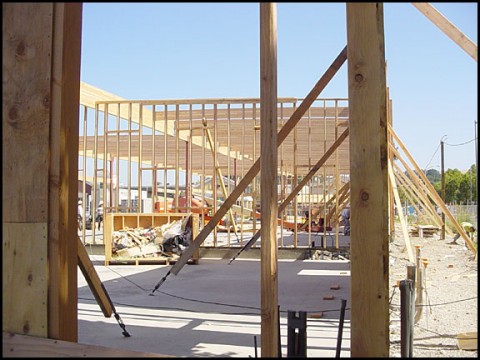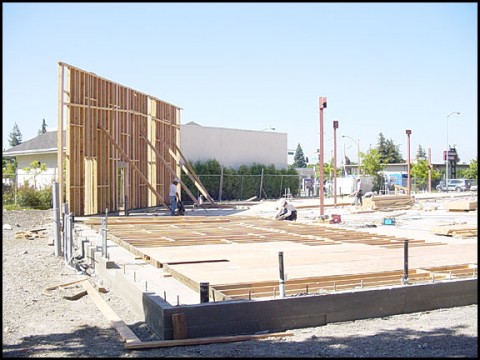 "Most of the time the slab will be poured before the landlord has all of his tenants signed up," says Bill Zeeb, Commercial Manager for LeDuc & Dexter Inc., "or the tenant is signed up but hasn't made up their mind completely about their floor plan. It's very common to perform slab cutting, wall sawing and core drilling for tenant improvements and businesses come and go so there are always changes when the new business comes in."
Gas, sewer and water lines have been stubbed out for each tenant at the Mendocino Market Place. Future bathroom plumbing has been installed and a grease line is in place, which was drawn up by the Safeway mechanical engineers. "With the grease line a restaurant can tie into it within their suite without disrupting another business space and the grease trap is located outside the building," explains Zeeb, "The landlord doesn't want to say 'no' to any perspective tenant, but we don't always know who that might be, so we have to have the tenant space ready for anyone."